Institutions vs Community
The future is here, it's just not evenly seen. A tale of 4 coins: MTA, YFI, SNX, COMP
Personal Backstory
The past 2 weeks, I don't think I've ever been as excited about the future of our world than before. While there are plenty of terrible things going on, I'm grateful for being in an industry such as DeFi where we actively create the future. There's no doubt to me that our actions will be studied by future students in the decades to come.
So what's this new future that we live in? It's one in which the people rule and the institutions compete. Ever since I was 12 and started coding, the dream was always:
Figure out a way to move to Silicon Valley (I grew up in New Zealand)

Build and create a network over there

Stumble upon a product which I'll be passionate about

Raise successions of venture funding

Reach the holy grail of entrepreneurship - the IPO/acquisition
It's been a decade since that (yes I'm 22 haha), and turns out I've grown old enough where my own mental model of the world has become outdated. How so? Well let's take a look at each and every point in the above plan:

Entering the United States is becoming impossible, if not ridiculously difficult. Before coronavirus, entering as a student was a viable path. In fact I actually received a $100k USD scholarship to go to USC, although the main problem was post degree I'd become an H1B slave to my employer. Land of the free, huh? I thought I should better save the money from a US degree for a future venture + retain my freedom rather than being bound to institutions and legacy systems. Fast forward the US suspends all student visas and forces them to go home. On top of that new H1Bs are being suspended. Funnily enough I still have optionality to move given my accomplishments (O1) although I don't think I'd like to move to a country which is riddled with Coronavirus and political instability. Maybe in the future?


Build and create a network. Ten years ago, the power of an online audience was no where near as clear as it is today. However, a larger factor plays into the fact here. Crypto is an industry which is extremely global and location isn't a disadvantage. Rather those that chose to keep their network bounded by geographical location suffer major disadvantages. We'll touch upon this later in this piece however having an online network now trumps having a local network (still assuming you have deep connections with individuals). This newsletter is me building my network week by week, edition by edition.


The funny part here is that building a product is entirely possible by one person and the leverage of code. To reach this step it completely relies on the skillset and ability of an individual/team. No other factors are needed. Design your product, write code, host it up on AWS, implement payments in seconds, share it on Product Hunt/Twitter. You're golden. Iterating to find product market fit is the only and main challenge you face. Funding? Use it as a tool to accelerate your speed but will come at a cost of increased distractions and probably slow down your hunt to P/M fit as managing investors is time consuming.


Raise successions of venture funding & achieve an exit event. This is where I think the greatest shift is occurring in real-time and where I'd like to discuss more about. What do I mean? Well for all of you that aren't plugged into the venture industry, you've always heard of the following headline:

"HOT NEW STARTUP RAISES $X million FROM VC A, B, C"

But have you ever heard of the following headline?

"HOT NEW VENTURE FUND RAISES $XXX million FROM GLOBAL 1% ELITE"?

Probably not. In fact if you ask a VC who their LPs are you'll probably get hit with a "we can't disclose that to you sir". The reality is that venture capital machine is way for the richest tiers of society to reinvest a small portion of their net worth and achieve a 20% IRR over the course of a few years. Venture Capitalists are agents in the middle that help the richest allocate into technology and take a 2% management fee with a 20% carry (keep 20% of the profits earned). Due to the incentives in venture capital in crypto, you can sometimes end up in a graph that looks like the following:

Exhibit A: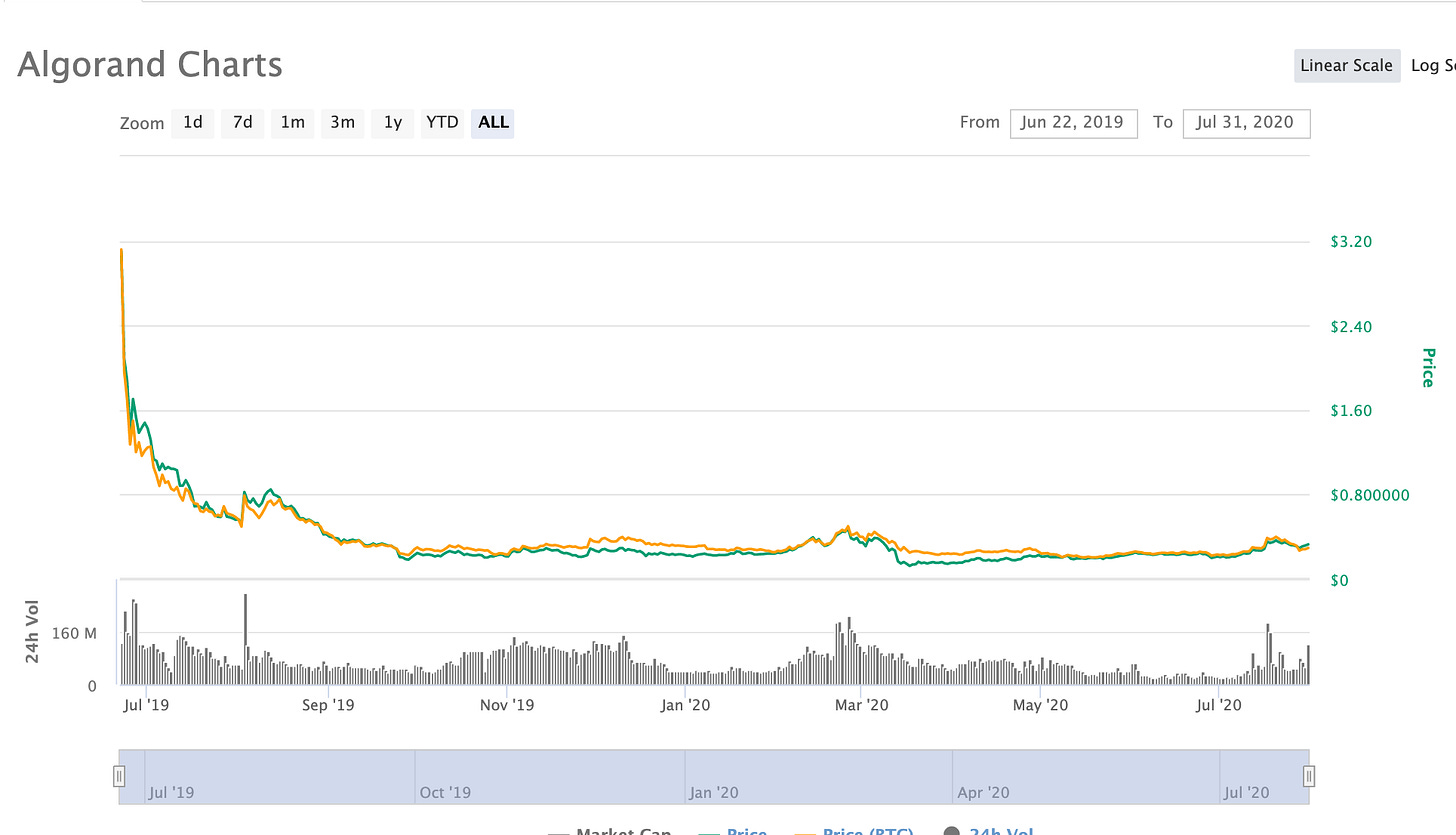 This isn't a knock on venture capital firms in any way. In fact, the best venture capital firms are filled with some extremely intelligent minds and can be your greatest ally in building a crypto network. However the number of firms who truly are aligned long term and have the technical/hard skillsets to be a net positive to be value adding is very small. Those that simply provide capital and do nothing else will be seen as parasitical.

---
Institutions & Community
Now, let's get to the point of this article. YFI is an example of how aligned people feel when they know they are the people that got into the ground floor of a project and they aren't the sheep that will be slaughtered by the next round of people that come in and steam roll them over.

Let's look at a few different coins and their various backgrounds:

YFI - yield optimiser, single developer, raised no venture capital funding to go live, everyone had to earn the token in order to buy it. Largest incentivised parties that will do stuff to increase the value of the network: users + Andre/future team


MTA - yield optimiser, full team, raised rounds of venture funding, investors got in ground floor prices. Largest incentivised parties that will do things to increase value of the network: team + advisors.


SNX - synthetic asset protocol, did an ICO, saw prices crash, allowed many people to get ownership of the network, price increased. Largest incentivised parties: thousands of token holders, team, foundation


COMP - lending protocol, raised $30m+ in venture funding, allowed < 10 institutions + highly connected angel investors to buy in. Largest incentivised parties that will do work: team, advisors. Why not users? Well because all the COMP that is being earned is being sold back to funds. Individual ownership in COMP will always remain super tiny.
The projects with the most incentivised communities are those which allow the greatest/largest user base in the end.

Furthermore, when crypto networks like Synthetix execute correctly, they end up in a treasury which is unrivalled by their more VC concentrated counter parts.

When thinking about participation of crypto networks, you really need to think in terms of simple incentives. Everyone's time has a cost. No one gives it out for free. If you want people to participate in your crypto network then you need to ensure that they will be rewarded crazy multiples for doing so and they won't be helping the institutional elite get rich.
$YFI has arguably made an entire community of yield farmers and users wealthy. Who has $COMP made wealthy apart from the team + institutional investors?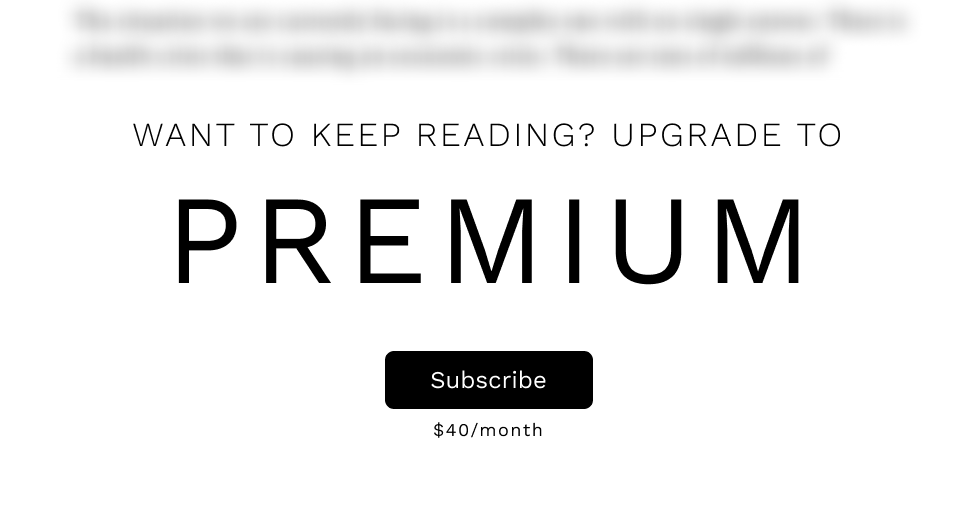 I hate paywalls as much as you do, however I want to make sure I can continue to write amazing content for you all. Subscribing is a gesture that I'd personally really appreciate since it allows me to keep making DeFi Weekly even better. Learn more:

https://defiweekly.substack.com/p/defi-weekly-premium